GP Dental
Buy online or call us at Tel: +86-757-8378 9917 Fax: +86-757-82060751
Email: alice@china-dental-unit.com
sunny@china-dental-unit.com
sandy@china-dental-unit.com
crystal@china-dental-unit.com
Mobile/Whatsapp:Sunny:+86-13929975397 Sandy:+86-13929952487
Crystal:+86-13929924759 Alice:+86-13702553284
QQ:Sunny:1927968129 Crystal:947117530 Sandy:2818493675
Skype:Sunny:sunnyleung881
Crystal:crystalyaolele
ADD:2nd floor-2P4, N0.26, Hujing Road, Chancheng District, Foshan City, Guangdong, China.
FACTORY DIRECT!

Dental Autoclave
Model: Tiger
Dental autoclave Features:
1. This steam sterilizer uses an independent steam generator to separate steam generation process from chamber heating process.
Thus, steam is created at a controllable speed, and less water is consumed. Moreover, the heating element is placed outside the
sterilization chamber, so it won't come into contact with water, thereby prolonging its service life.
2. For our steam autoclave, the steam generator makes use of a multipoint control unit to reduce overshooting of pressure, thus
allowing the load to reach the correct temperature much faster while maintaining stable sterilization process. Moreover, the applied
leading-edge fuzzy control technology is able to more precisely control the chamber temperature. Technically speaking, the
temperature deviation is within ±0.5°C.
3. The B-cycle sterilizer has a piece of new control software that could automatically record start time and end time of a sterilization
cycle.
4. The temperature sensor is designed to effectively correct the temperature, and its parameters can be regulated automatically or
manually.
Dental autoclave Technical Data:
1. Sterilization temperature: 121°C, 134°C
2. Display:Digital screen display
3. Test cycle: Bowie & Dick test and vacuum test
4. Pre-vacuum: 1-time and 3-time pre-vacuum treatments are both available for one machine.
5. Special microorganisms to be inactivated: HIV, HBV, prion (causes mad cow disease), spore and other viruses
6. Sterilization record: The sterilization record can be printed on papers by a mini printer, or be stored in a USB disk.
7. Safety consideration: Temperature protection is available at three places including the steam generator as well as the inner and outer sides of sterilization chamber, while the door lock is protected both manually and pneumatically. As a result, misoperation won't lead to a disastrous consequence.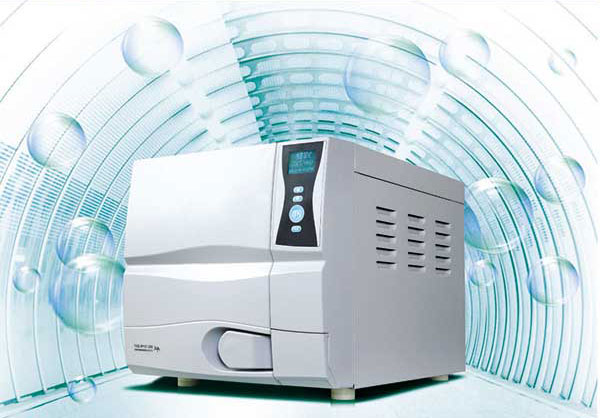 See more our Dental autoclave product!