Dental Patient Chairs ST-3606 Star type dental exam chair

| | |
| --- | --- |
| Item No. | GP001-11 |
| Model | ST-3606 |
| Voltage | 220±10V, 50±1Hz |
| Air pressure | 550Kpa-1000Kpa |
| Water pressure | 0.2MPa-0.4MPa |
| Power Source | Electricity |
| Packing Dimension | 1500×1100×1300mm |
| Gross weight | 270kgs |
GP Dental
Buy online or call us at Tel: +86-757-8378 9917 Fax: +86-757-82060751
Email: alice@china-dental-unit.com
sunny@china-dental-unit.com
sandy@china-dental-unit.com
crystal@china-dental-unit.com
Mobile/Whatsapp:Sunny:+86-13929975397 Sandy:+86-13929952487
Crystal:+86-13929924759 Alice:+86-13702553284
QQ:Sunny:1927968129 Crystal:947117530 Sandy:2818493675
Skype:Sunny:sunnyleung881
Crystal:crystalyaolele
ADD:2nd floor-2P4, N0.26, Hujing Road, Chancheng District, Foshan City, Guangdong, China.
FACTORY DIRECT!
Introduction
The ST- 3606 (star type)
dental patient chairs
with streamline design looks more pleasing in form. Excepting for the excellent performance of basic functions, improved positioning memory function and patient chair offer you a convenient practice and the patient more comfort.

FEATURES
1.Patient chair with horizontal shift by 12mm offers patient more comfort when backrest is moving.
2.Backrest with narrow shoulder area for easy access by the dentist
3.Backrest with fast movement function, enables its movement from 0 degree position to 90 degree position with 9 seconds.
4.One touch for 3 functions: chair movement, bowl rinse and operation light.
5.2 preset positions simplify the treatment.
6.9 programmable positions make the treatment smoothly and practically.
7.Last memory position allows patient chair back to the previous treatment position easily.
8.Integrated floor box with chair base, no cables on the floor, hygienic and clean.
9.Supper low position reaches 380mm.
10.Control panel on instrument tray is multi-functional for all the applications of the dental unit.
11.Silicon mat of the tray could be taken out for sterilization.
12.Air brake on instrument tray ensures safe operation.
13.Innovated suction filter benefits for easy cleaning.
14.Improved assistant holder integral with suction filter and touchpad.
15.Integrated private tray, cup cartridge and tissue box provides patients with care and comfort.


SPECIFICATIONS
Voltage: 220±10V, 50±1Hz
Air pressure: 550Kpa - 1000Kpa
Water pressure: 0.2MPa - 0.4MPa
Net weight: 200Kg
Gross weight: 270Kg
Packing dimensions: 1500×1100×1300mm


STANDARD CONFIGURATION


DENTAL CHAIR
Seamless upholstery
One dentist stool


INSTRUMENT ELEMENT
Hanging type instrument tray
Two high speed and one low speed handpiece hoses (2 holes or 4 holes)
One syringe (cold)
Silicon mat


ASSISTANT ELEMENT
One syringe (warm)
One strong suction and one saliva ejector
Suction filter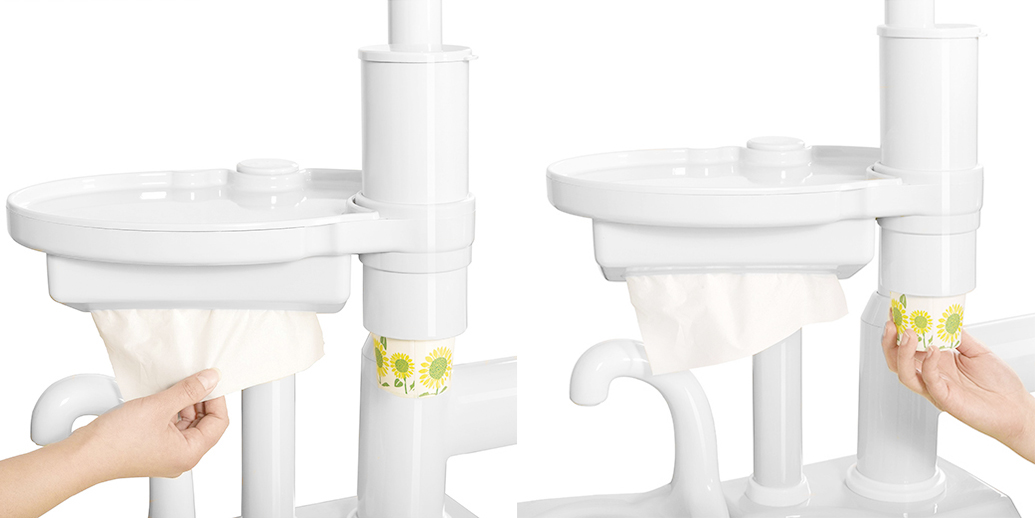 Patent Design Composite-design of smal tray,cup holder,provides great care and to patients

UNIT BOX
Water heating system
Swivel ceramic cuspidor
Distilled water system with built-out type bottle
Tissue box, private tray and cup cartridge
programmable cup fill and bowl rinse system


OPERATION LIGHT
C type Dental light rotates horizontally
CONTROL SYSTEM
One composite pedal switch and one chair-controlling pedal
One control panel on instrument tray
Manual switch on operation light


General Package Information


1

Dental delivery system

1set

2

Patient chair (ST-06)

1set

3

Dental stool (C type)

1set

4

Operation light(C type)

1set

5

Package material(standard)

Single wooden case

6

Product Dimensions (mm)(after installation)

2150*1500*1800

7

Package Dimensions (mm)

1550*1100*1350

8

Package gross weight/Net weight(kg)

300/225

9

Contained sets of 20GP/40GP/40HQ container

7/16/29

Special package Two wooden cases

1

Package (sperated)

Two wooden cases

2

Dimensions (mm)

1)1550*900*1380; 2) 1550*800*1300

3

Package gross weight/Net weight(kg)

194/167,220/190
Core
Deep
Dental Chair
is your b
est
Choice!
We have many
dental chairs for s
ale

!