GP Dental
Buy online or call us at Tel: +86-757-8378 9917 Fax: +86-757-82060751
Email: alice@china-dental-unit.com
sunny@china-dental-unit.com
sandy@china-dental-unit.com
crystal@china-dental-unit.com
Mobile/Whatsapp:Sunny:+86-13929975397 Sandy:+86-13929952487
Crystal:+86-13929924759 Alice:+86-13702553284
QQ:Sunny:1927968129 Crystal:947117530 Sandy:2818493675
Skype:Sunny:sunnyleung881
Crystal:crystalyaolele
ADD:2nd floor-2P4, N0.26, Hujing Road, Chancheng District, Foshan City, Guangdong, China.
FACTORY DIRECT!
Mobile Dental Equipment
Model: GPC-220
Item No.: GP050-10
Mobile Dental Equipment Feature:
Mobile Dental Equipment offers a pullout breadboard, that fully extend and quickly remove for easy cleaning.
Mobile Dental Equipment Standard:
Six easy to remove and clean full extension drawers and one breadboard.
High quality hardware throughout.
Oversized caster wheels.
Four stationary handles for easier cart positioning
A removable conter-top plastic tray that is sectioned for instrument and accessory placement.
4-hole/2hole instrument hose: 2 pcs
3-way syringe: 1 pc
Saliva ejector:1 pc
Self Contained Water Supply: 1 set
Foot controller
Water cool and on/off switch with flow control
A round handpiece pressure gauge
Self Contained Oil free compressor (580W, 110V or 220V Compatable, 10L tank capacity)
Mobile Dental Equipment Option:
Ultrasonic Scaler
Led curing light, Air turbine handpiece
Intraoral camera system with monitor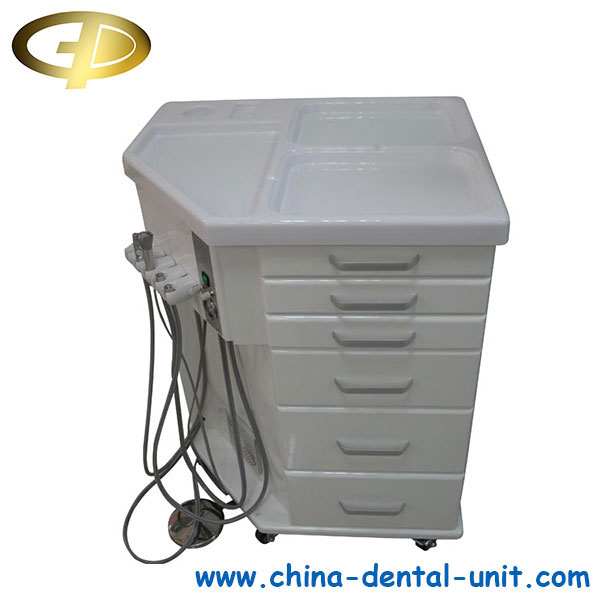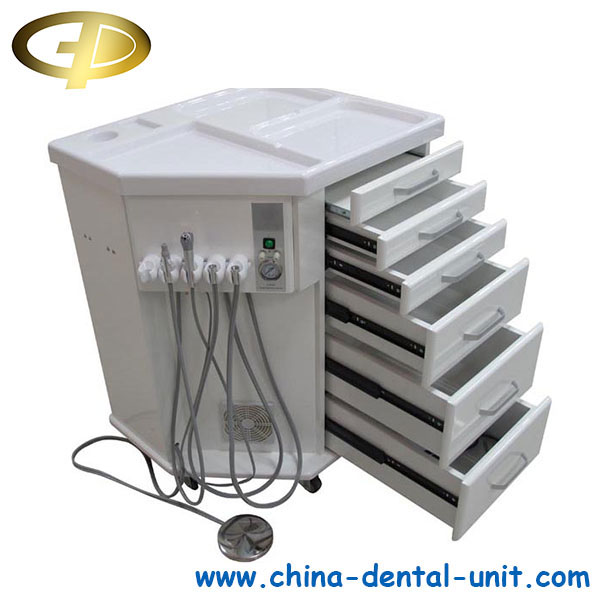 See more our Mobile Dental Equipment product!