GP Dental
Buy online or call us at Tel: +86-757-8378 9917 Fax: +86-757-82060751
Email: sunny@china-dental-unit.com
sandy@china-dental-unit.com
crystal@china-dental-unit.com
Mobile/Whatsapp:Sunny:+86-13929975397 Sandy:+86-13929952487
Crystal:+86-13929924759 Alice:+86-13702553284
QQ:Sunny:1927968129 Crystal:947117530 Sandy:2818493675
Skype:Sunny:sunnyleung881
Crystal:crystalyaolele
Sandy:sale2@dental-cd.com
ADD:2nd floor-2P4, N0.26, Hujing Road, Chancheng District, Foshan City, Guangdong, China.
Amalgarmtor
Item No.: GP022-03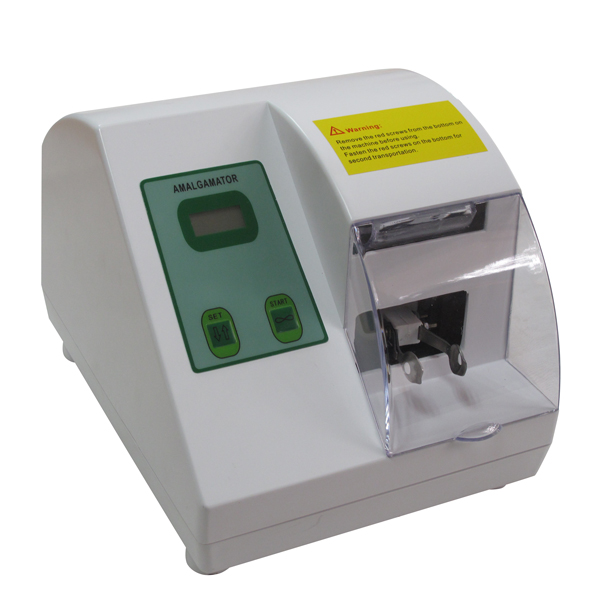 1.Introduction
Model HL-AH G5 Amalgamator, which controlled by a microprocessor to ensure a precise, controlled, consistent mix. With working speed >=4200rpm can adjust working time from 4S to 60S. It is suitable for all the capsule and glass ionomer sold in the market. For safe operation, the motor will stop, when the mask is open. It can satisfy different customers' requirements.
1. Time setting with memory function.
2. Security Guard design, motor will stop when the mask is open.
3. Noiseless, Stable operation, Electrical safety standard met.
4. Automatic alarm to remind, Easy maintenance.
3.Technical Date
*Power voltage: AC 220V, 50HZ or AC 110V, 60HZ
*Blending speed: ≧4200rpm
*Noise level: less than 65db (A)
Packaging Details

4sets/carton
1 set package as below: Gross Weight:2.5KG SIZE: 0.3*0.25*0.24m
1 carton package as below:Gross Weight:10.84KG SIZE:0.51*0.3*0.48m


6sets/carton
1 set package as below: Gross Weight:2.5KG SIZE: 0.3*0.25*0.24m
1 carton package as below:Gross Weight:15.94KG SIZE:0.32*0.31*0.72m

Delivery Detail

7 Days After Received the Total Payment
5.Names of parts and Operation Detail
Operation
1) Turn on the switch and press the black switch at rear device, the screen is light.
2) Set the blending time. Press the setting button shortly, the time increases 2 seconds; press it for a long time, the time increases to needed time quickly.(the highest time is 60 seconds, then it recycles to 4 seconds )and the timer is memorable.(eg. 004 stands for 4 seconds and 060 stands for 60 seconds).
3) Open the mask, put the capsule into the clip and then close the mask.(To ensure safety, the device will beep on error instead of working while the mask is open , )this setup has applied for national patent successfully, the number is ZL 2005 2 0014942.1.
4) Press start/stop, the device runs, meanwhile, the screen shows the time which is decreasing accordingly until the time is over with beeping and the device stop working automatically.
5) Turn off the device and detach the capsule, the blending is ok.
Suggestion on the time of blending capsule
Brand

To take GK amalgam capsule for an example ( Ag43% Sn32% Cu25% )

Specifications of amalgam capsule

GK alloy powders 200mg

GK alloy powders 400mg

GK alloy powders 600mg

GK alloy powders 800mg

Recommended time

12S∽16S

12S∽16S

12S∽18S

16S∽20S