High Quality Dental Equipment Dental Chair Unit

GP Dental
Buy online or call us at Tel: +86-757-8378 9917 Fax: +86-757-82060751
Email: alice@china-dental-unit.com
sunny@china-dental-unit.com
sandy@china-dental-unit.com
crystal@china-dental-unit.com
Mobile/Whatsapp:Sunny:+86-13929975397 Sandy:+86-13929952487
Crystal:+86-13929924759 Alice:+86-13702553284
QQ:Sunny:1927968129 Crystal:947117530 Sandy:2818493675
Skype:Sunny:sunnyleung881
Crystal:crystalyaolele
ADD:2nd floor-2P4, N0.26, Hujing Road, Chancheng District, Foshan City, Guangdong, China.
1.Core Deep ST-3603 was designed by European designer with a well-proportioned and pleasing shape to meet your individual requirements during your practice.

2.Designed to meet your specific requirements and enhance patient care with increased chair-ride comfort, efficient touchpad control, and improved light performance.

3.When the handpiece is working, dental chair will automatically keep locked to ensure the operation safety.

4.Through CE certification, ISO 13485 certification and Free sale certification.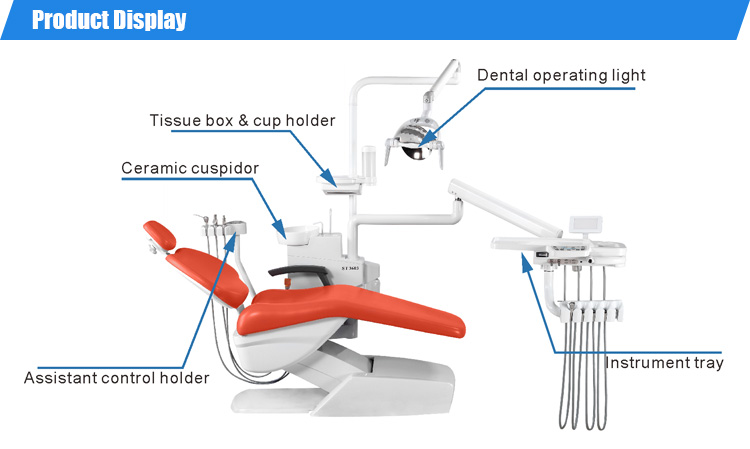 Specification
| | |
| --- | --- |
| Model | ST-3603 |
| Voltage | 220±10V/110±10V, 50±1Hz/60±1Hz |
| Air pressure | 550Kpa-1000Kpa |
| Water pressure | 0.2MPa-0.4MPa |
| Power Source | Electricity |
| Dimension | 1450 x 1100 x 1120 mm |
| Gross weight | 260kgs |