Coredeep Dental Chair ST-3603 1000 Type

| | |
| --- | --- |
| Item No. | GP001-21 |
| Model | ST-3603 |
| Voltage | 220±10V, 50±1Hz |
| Air pressure | 550Kpa-1000Kpa |
| Water pressure | 0.2MPa-0.4MPa |
| Net weight | 175Kg |
| Packing Dimension | 1500×1070×1300mm |
| Gross weight | 245kg |
GP Dental
Buy online or call us at Tel: +86-757-8378 9917 Fax: +86-757-82060751
Email: alice@china-dental-unit.com
sunny@china-dental-unit.com
sandy@china-dental-unit.com
crystal@china-dental-unit.com
Mobile/Whatsapp:Sunny:+86-13929975397 Sandy:+86-13929952487
Crystal:+86-13929924759 Alice:+86-13702553284
QQ:Sunny:1927968129 Crystal:947117530 Sandy:2818493675
Skype:Sunny:sunnyleung881
Crystal:crystalyaolele
ADD:2nd floor-2P4, N0.26, Hujing Road, Chancheng District, Foshan City, Guangdong, China.
FACTORY DIRECT!
Integral Dental Unit
Model: ST-3603(1000 type)
Item No.: GP001-21
Body color: white

Introduction
ST-3603(1000 Type) core deep dental chair, The latest model in Coredeep dental product family with modern European design and exquisite engineering.Design by European designer with a well-proportioned and pleasing shape to meet your individual requirements during your practice. Integrated ErgoMotion ensures the patient comfort. Convenient hands-free operation, flexible configuration possibilities and intuitive chair positioning. The solution for all your everyday needs integrating safety,ergonomic operation and configuration variety.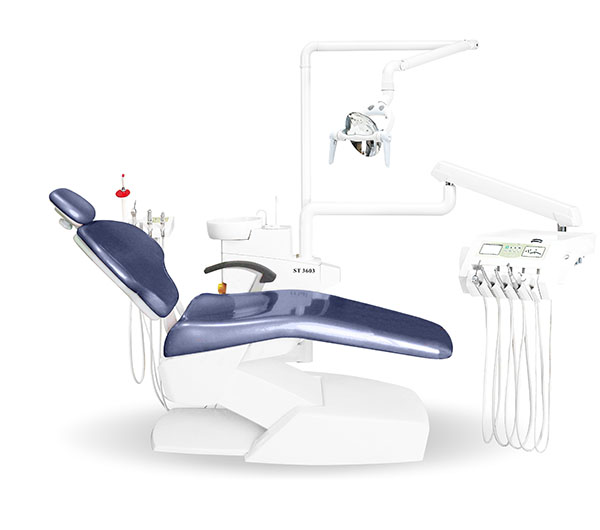 FEATURES
ST-3603 core dental chair with a smooth cambered surface,makes patient comfortable.
A modern and streaming line design,has a nice looking,Unit box made of special material,modern,clean,and convenient.
To have a comfortable,treatment,backrest is designed according to the body line of human's back.
Steady integral dental unit body comforts the patient and make the operation easy.
DENTAL CHAIRS STANDARD CONFIGURATION


Dentist element
With drop-proof angle and can be equipped with up to 5 instruments including scaler and handpieces.
Assistant element
4-claw assistant element with anteroposterior position design equipped with standard syringe, saliva ejector and strong suction , also can be optional equipped with curing light. Independent filter for each suction hose for easy cleaning.
Ceramic cuspidor
Sanitary ceramic is safe and easy to use. Removable ceramic cuspidor bowl makes the cleaning simple and fast.
Filter
Built-out and independent filter for each suction hose for easy cleaning.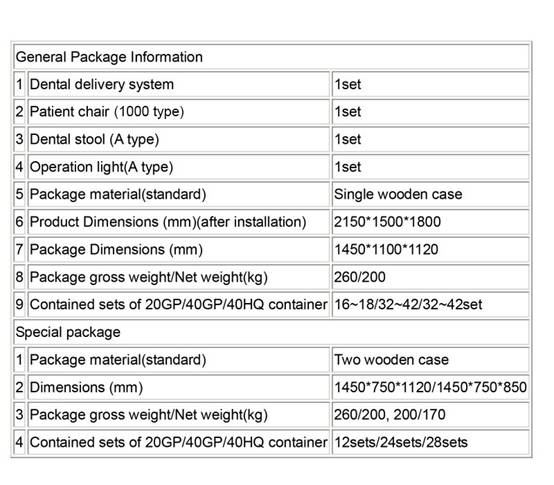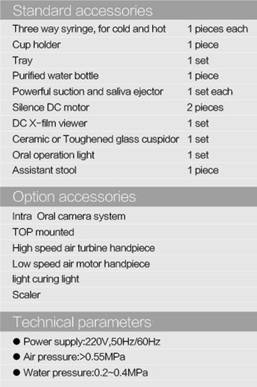 Core Deep Dental Chair is your best Choice!We have many dental chairs for sale!